Eine japanischer Obstvertrieb (um genau zu sein Kirschenvertrieb) macht im Jahr 1992 Werbung mit David Lynch's und Mark Frost's Serienhit 'Twin Peaks' und Agent Cooper's Liebe für Kirschkuchen.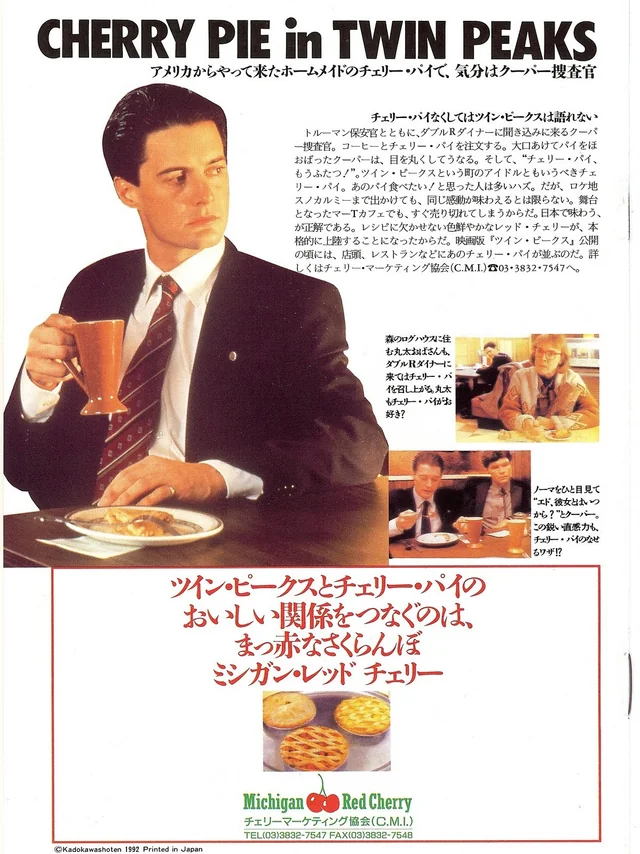 03.05.2023
Und damit nicht genug:  auch die Log Lady kommt regelmäßig extra ins Double R um Kirschkuchen zu seeken. Lest euch diese drollige Fan-Übersetzung aus dem japanischen von Redditor u/C_A_N_G dazu durch. ;)
CHERRY PIE in TWIN PEAKS The cherry pie from the United States makes you feel like Agent Cooper

You can't talk about Twin Peaks without a cherry pie

Agent Cooper, following the recommendation of Sheriff Truman, visited Double R Diner. He ordered coffee and cherry pie. Cooper stuffed his mouth with the pie, and was moaning from amazement. Then he said "two more pieces, please!". This cherry pie should be called "the icon of Twin Peaks". There are apparently many people who think "I want to eat this pie!". But if you go to the shooting location, Snoqualmie, you might be disappointed. That's because the Mar-T Cafe, which became the stage of the series, was sold out some time after. Trying it in Japan however, is a viable possibility. Because the fundamental ingredient, the bright red cherry, has genuinely become the classic. Around the time that the movie version of Twin Peaks was released, there was a line for the cherry pie in front of the store. For more information, contact the Cherry Marketing Association at 03 3832 7547.

The Log Lady, which lives in the wooden house in the forest, comes to Double R Diner to eat Cherry Pie. Does the Log also like the pie?

When Cooper met with the man who often glanced at Norma, he asked him "Ed, how long have you been in love with her?". Is such sharp intuition a doing of the cherry pie, too?!

The delicious connection between Twin Peaks and cherry pie is the bright red cherry. Michigan Red Cherry.
(via r/twinpeaks)
*** Belong to the cool Kids! It's Easy: Follow this Blog on Twitter, experience ZWENTNERS's Life on Instagram and listen to our Podcast about Vinyl ***