Die Trash-Film Produktionsfirma 'Full Moon Features' bringt einen absurdes Horror-Flick zum Thema Corona Krise. Satire? Galgenhumor? I don't know… Auf jeden Fall absoluter Nonsens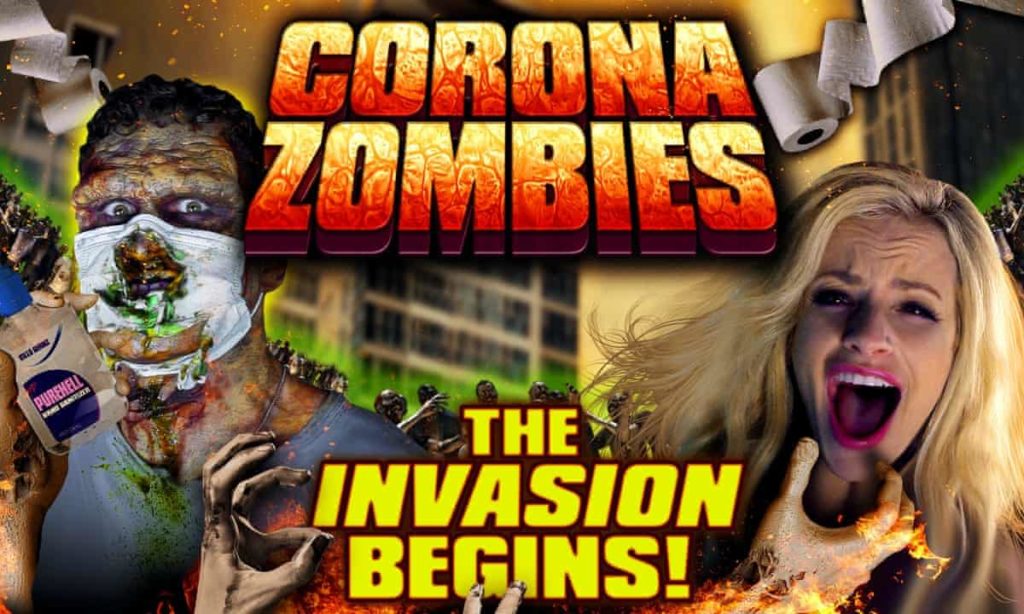 11.05.2020
Es war ja klar, dass es nicht läge dauert bis so etwas kommt!
Die größte Leistung ist hier eindeutig, dass die es geschafft haben den Streifen in so kurzer Zeit zu drehen. Ja, offensichtlich ist auch genau das passiert, obwohl es nahe gelegen hätte einen bereits fertigen Zombie Film quasi nachträglich zu pimpen.
Mir hat der Trailer ehrlich gesagt schon genügt. Der Ganze Spuk geht aber nur knapp über eine Stunde, sodass der bitte vortreten möge der sich traut das Ding bis zum Ende zu scheuen.  IMDB übrigens bewertet den Film mit  2,6 im Durchschnitt….
Ditsy damsels in distress, toilet paper famine, inept world leaders, mass-media gone wild, a virus from Hell and hordes of ghouls hungry for human flesh combine in Full Moon's maniacal horror comedy hybrid CORONA ZOMBIES.

Part irreverent satire, part gonzo Italian zombie movie remix, all Full Moon mania, CORONA ZOMBIES takes aim at the madness surrounding the crazy times we're all living in and delivers the funniest – and most controversial – exploitation movie of the year.
CORONA ZOMBIES Exclusive Full Trailer (2020)
*** Belong to the cool Kids! It's Easy: Follow this Blog on Social Media like Twitter, Snapchat or Instagram for more Content of from Zwentner.com & about my Life ***