Oh shit, es war ja nur eine Frage der Zeit bis jemand auf die Idee kommt die Stinkefrucht auf eine Pizza zu legen. Nun ist es wohl leider geschehen denn "The Pizza Company" in BKK hat offiziell Durian Pizza im Programm.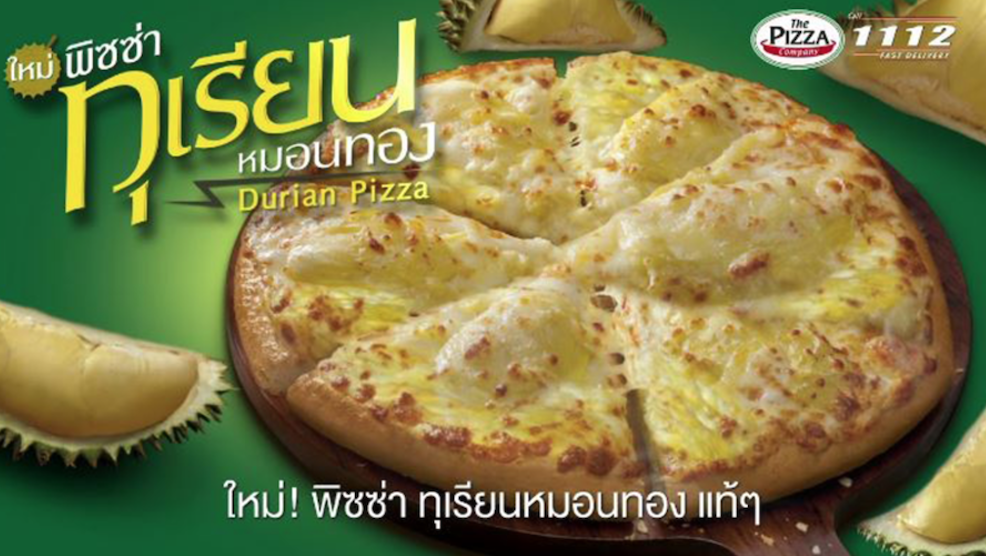 22.10.2018
Wer von euch schonmal in Südost Asien unterwegs war der wird auch nicht an der wohl widerlichsten Frucht unseres Planeten vorbeigekommen sein, zumindest nicht an deren Geruch. Der ist nämlich das was den meisten schon genügt und für den Rest ihres Lebens davor bewahrt je von der Durian zu kosten.
Glaubt mir, es ist nicht übertrieben. Ich habe die Durian vor ein paar Jahren tatsächlich mal probiert und kann nur sagen es war eines der abstoßendsten Erlebnisse meines Lebens. Trotzdem hat die Frucht ihre Fans und deshalb gibt es jetzt auch wohl Pizza mit ihr obendrauf. WTF!
Destroy all the rules of deliciousness with the brand new pizza made with real 'Monthong' [a type of durian] durian" bodes the perhaps-overly energetic voiceover that accompanies The Pizza Company's new TV commercial. Yeah, durian pizza. Let that sit for a second.
(via coconutsbangkok)
*** Belong to the cool Kids! It's Easy: Follow this Blog on Social Media like Twitter, Snapchat or Instagram for more Content of from Zwentner.com & about my Life ***