Japanese Honey Bees Kill Giant Hornet Scout by Roasting
Man kann gat nicht oft genug sagen, wie krass die Natur ist: Diese japanische Bienenkolonie beseitigt eindringende Hornissen indem die Bienen sie quasi durch ihre Körperwärme rösten.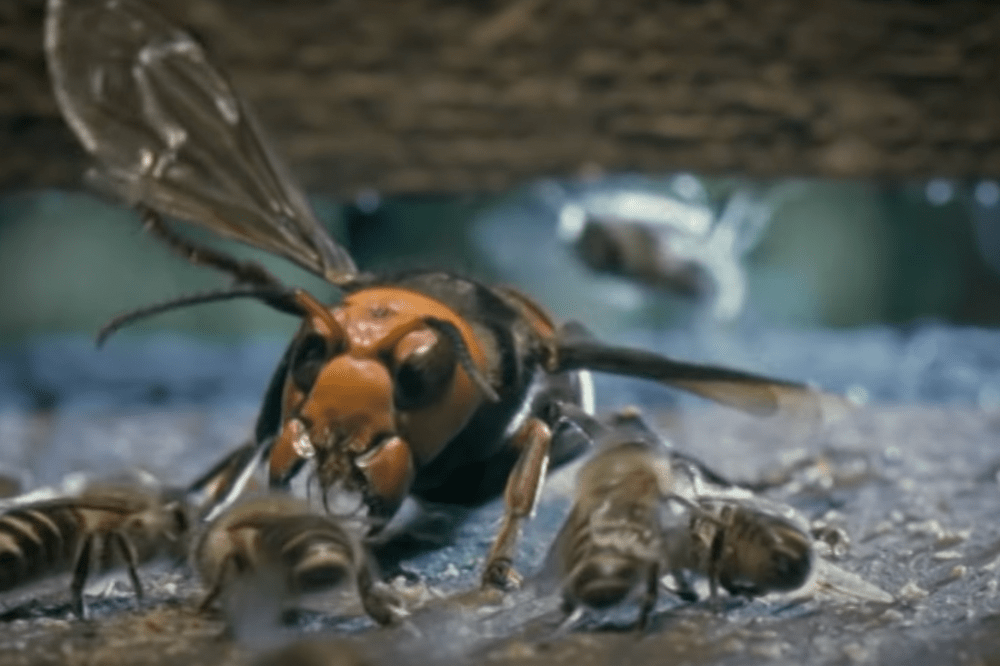 15.04.2021
Das machen die, in dem sie den richtigen Moment abwarten und die Hornisse dann mit gesammelter Mannschaft 'burgern'. Bienenkörper sind in der Lage Temperaturen von bis zu 46 Grad Celsius auszuhalten bevor sie den Hitzetod sterben, bei Hornissen ist das schon bei 44 Grad der Fall.
Anscheinend hat die Evolution solchen Bienenkolonien über Generationen beigebracht so die Scout-Hornissen unschädlich zu machen, bevor diese ihre Brüder holen, die Kolonie niedermähen und den Honig einsacken.
How awesome is this?
🐝✨🐝🐝✨🐝🐝✨🐝🐝✨🐝🐝✨🐝🐝✨🐝🐝✨🐝🐝✨🐝🐝✨🐝🐝✨🐝🐝✨🐝🐝✨🐝
Natural World: Buddha Bees and The Giant Hornet Queen It's springtime on Honshu Island, and a queen stirs from hibernation. She alone has the ability to create an empire of winged killers, one that will last all summer long. She is a Japanese giant hornet: the largest wasp on the planet. Armed with razor-sharp jaws, thick armour plating, and a lethal half-inch stinger, these hornets have but one mission: to spread their majesty's reign to the whole countryside. Is there nothing that can stop this murderous horde? Or will the giant monsters destroy all who stand in their way, man and insect alike?
Bees Kill A Giant Hornet With Heat | Buddha Bees and The Giant Hornet Queen | BBC Earth
(via)
*** Belong to the cool Kids! It's Easy: Follow this Blog on Twitter, experience ZWENTNERS's Life on Instagram and listen to our Podcast about Vinyl ***