Joe Hisaishi's Ghibli Soundtracks auf Vinyl
HMV Japan beginnt damit das Werk von Joe Hisaishi, dem Haus und Hof Komponisten der Ghibli Studios, auf Vinyl zu pressen. Den Anfang machen LAPUTA: Castle in the Sky, Nausicaa of the valley of the wind und My Neighbor Totoro!!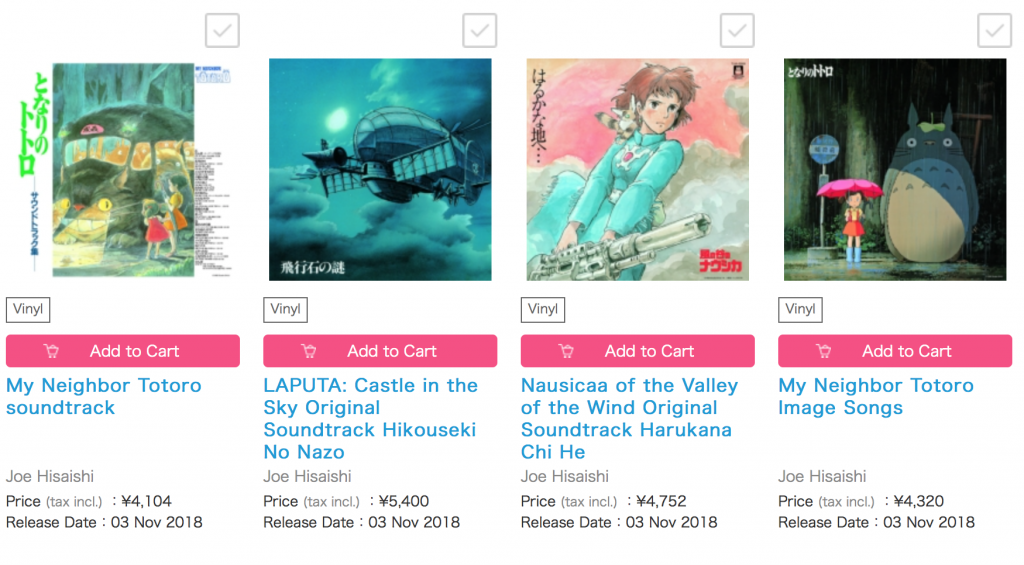 27.08.2018
Wenn das mal keine Nachricht ist oder? Und zu den drei genannten Titeln gibt es wirklich alle Musik, d.h. nicht nur die eigentlichen Soundtracks, sondern auch die sog. 'Image' Alben und 'Soundbooks' damals ebenfalls komponierte musikalische Beiwerke zu den Filmen, die aber eigentlich nicht in den Szenen vorkommen.
Pro Film drei individuelle Schallplatten und dann auch noch der Import aus Japan. Wie ihr Euch vorstellen könnt, keine billige Angelegenheit. Mir blutet zwar jetzt schon das Herz aber ich denke ich werde da eine Auswahl treffen müssen. Also vielleicht erstmal nur die Original Soundtracks oder nur alles von 'Nausicaa' oder…. ach ich weiss es doch auch nicht! Alles zu gut.

Bei HMV kann man jedenfalls super bestellen. Porto war fair und die Ware kam bei meiner ersten Bestellung sicher und verhältnismäßig zügig an. Wenn dann hoffentlich aber irgendwann auch 'Princess Mononoke' kommt muss ich mir aber alle Platten ordern, egal wie viele es sind ;)
Dann mal viel Spaß bei der Qual der Wahl :)
Joe Hisaishi's works will be released on November 3, 2018!! The anime titles are LAPUTA: Castle in the Sky, Nausicaa of the valley of the wind and My Neighbor Totoro!!
Nausicaä of the Valley of the Wind Soundtrack (Best Quality)
"Path of The Wind" by Joe Hisaishi
♬ 1 HOUR LAPUTA THEME✔ // CASTLE IN THE SKY FULL SOUNDTRACK ♬
*** Belong to the cool Kids! It's Easy: Follow this Blog on Social Media like Twitter, Snapchat or Instagram for more Content of from Zwentner.com & about my Life ***