Mellow Days: One hour of japanese City Pop
Mellow Days | 80's Japanese City Pop 시티팝 シティポップ ist eine wirklich nice Playlist, die den einen oder anderen Klassiker des Genre enthält. Lässt sich schön durchdudeln…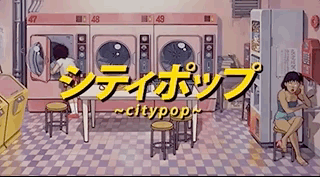 26.05.2019
Man könnte es auch ein Empfehlungsschreiben für diese musikalische Phase aus Japans 80er Jahren bezeichnen.
Mit Takako Mamiya's "Midnight Joke", Miki Matsubara's "Stay with me" oder Mariya Takeuchi's  "Plastic Love" sind auf jeden Fall drei der bekanntesten und besten Genrevertreter hier verwurstet.
Dazu gibt's diesen hübschen Waschsalon-Loop, aus dem ich gleich erstmal ein gif gemacht habe.
Enjoy!
Mellow Days | 80's Japanese City Pop 시티팝 シティポップ
?
01. Tomoko Aran – Midnight Pretenders
02. CINDY – Angel Touch
03. Mariya Takeuchi – Plastic Love
04. Takako Mamiya – Midnight Joke
05. Noriko Miyamoto – MY LIFE
06. Junko Ohashi – Crystal City
07. Miki Matsubara – Stay with me
08. Mariya Takeuchi – OH NO, OH YES!
09. Junko Ohashi – Telephone Number
10. Tomoko Aran – I'm In Love
*** Belong to the cool Kids! It's Easy: Follow this Blog on Social Media like Twitter, Snapchat or Instagram for more Content of from Zwentner.com & about my Life ***