Tokios erstes Kapselgebäude wurde bereits im Jahr 1972 von Architekt Kisho Kurokawa entworfen und ist seit Jahren in Gefahr der Abrissbirne zum Opfer zu fallen. Inzwischen kaufen Enthusiasten die einzelnen Kapseln auf um das Bauwerk zu erhalten.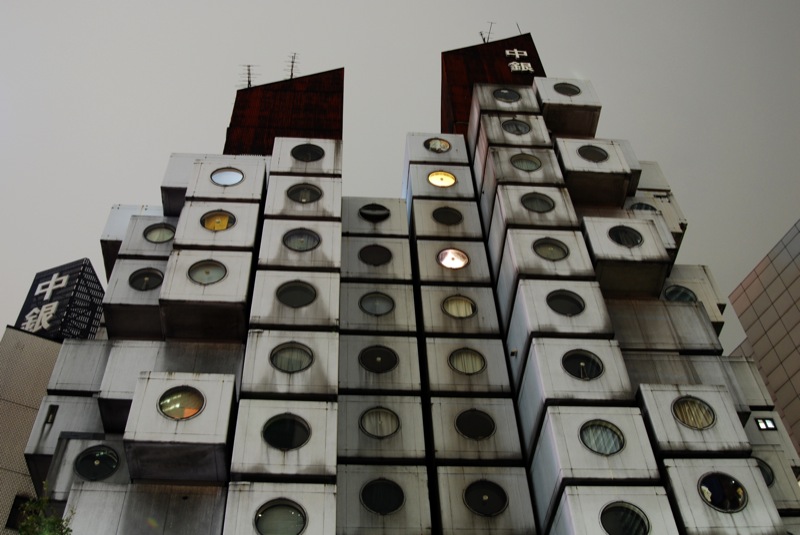 18.05.2021
Nicht nur ein fantastisches retro futuristisches Zeitdokument sondern auch die perfekte Filmkulisse für den nächsten Blade Runner oder? Zwei Gründe mehr das kultige Sci-Fi Bauwerk zu erhalten. Es gibt sogar eine Initiative die dafür Aufmerksamkeit erregen möchte.
As part of its preservation plans, the "Save Nakagin Tower" project has been leasing around 30 capsule apartments to the public on a monthly basis since 2018. However, these monthly stays were temporarily closed recently, which came as sad news to our Japanese-language reporter Chie Nomura, who had been waiting to rent one of these apartments. She managed to get in contact with Tatsuyuki Maeda, a representative from the organization, to let him know her desire to live in the tower, and after a few days passed, she was thrilled when he called her back to let her know an apartment had become available.
Hier gibt es ein paar Fotos der Innenräume der Kapseln, die teilw. noch mit festeingebauten Sony-Tapedecks und Holzklapptischen versehen sind. Der Reiz für viele Investoren das Ding abzureißen besteht schlicht darin an dessen Stelle eine noch viel höheres Gebäude zu setzten mit dem sich dann auch mehr Geld verdienen ließe. Wohnraum in Tokio ist eben knapp.
Dennoch wäre es eine Schande. Ich hoffe also dass 'Nakagin Capsule Tower' bei meinem nächsten Japanbesuch noch steht.
Living in a Long Forgotten Future – A Look Inside the Nakagin Capsule Tower in Tokyo, Japan
[Image: scarletgreen, CC-BY]
(via boingboing)
*** Belong to the cool Kids! It's Easy: Follow this Blog on Twitter, experience ZWENTNERS's Life on Instagram and listen to our Podcast about Vinyl ***