Relative rotations of the planets in 2D
Dr James O'Donoghue zeigt in dieser Animation die Rotation der Planeten unseres Sonnensystems im Zeitraffer, jedoch relativ zu ihrer Geschwindigkeit in Echtzeit zueinander.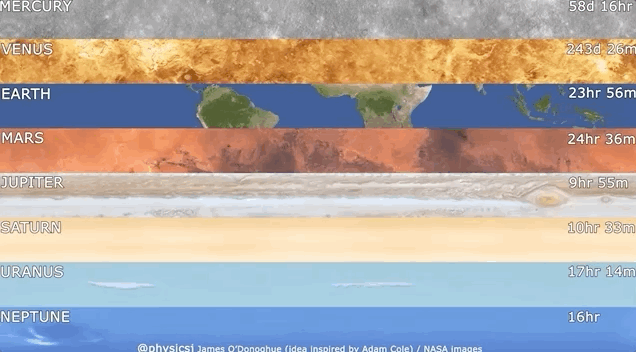 03.12.2019
So sehen wir, dass z.B. der Jupiter sich ingesamt 2,4 mal so schnell dreht wie die Erde oder das der Merkur mehr als 58 Tage benötigt um sich einmal um die eigene Achse zu drehen.
Fun Fact: Venus und Uranus drehen sich in der Realität eigentlich in die entgegengesetzte Richtung. Sie wurden nur für diesen Geschwindigkeitsvergleich von rechts nach links gedreht.
Coll oder? ✨
Each planet's rotation is shown moving to relative scale, e.g. Jupiter rotates around 2.4 times faster than Earth.
Relative rotations of the planets in 2D (one-way version)
*** Belong to the cool Kids! It's Easy: Follow this Blog on Social Media like Twitter, Snapchat or Instagram for more Content of from Zwentner.com & about my Life ***