Ein Restaurant in North Carolina verkauft im Rahmen einer Aktion gerade echte Tarantula Burger. Kein Witz: Einen Burger mit einer fetten Spinne drauf OMG !!!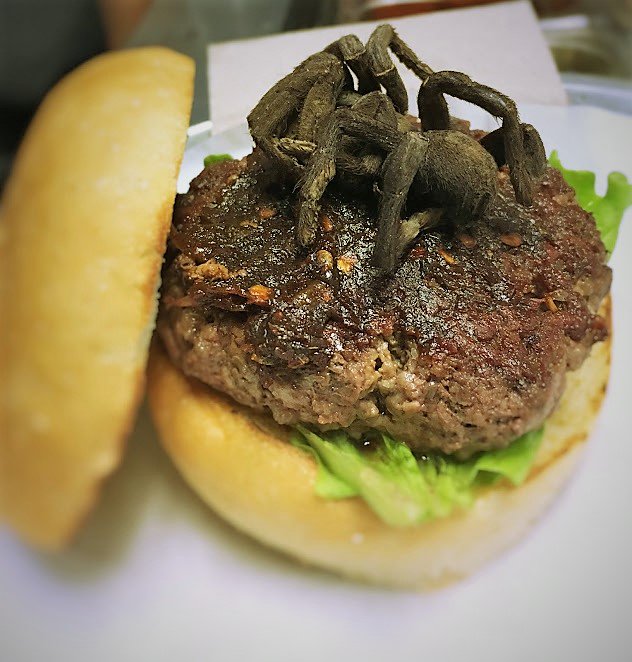 16.04.2018
Das Ganze findet im Rahmen eines sog. 'Exotic Meat Month' statt, bei dem die Burger Bude  Bull City Burger verschiedene Fleisch Buletten serviert die rund um die Welt in verschiedenen Kulturen gegessen werden.
Der Spinnen Burger enthält ein klassisches Beef Patty, edlen Gruyere Käse, scharfe Chilli Sauce  und eine ofengeröstete Tarantula. Wer in den zweifelhaften Genuss einer solchen Kreation kommen möchte, der muss ein Los ziehen, denn insgesamt gibt es nur achtzehn Tarantulas zur Verarbeitung.
Alle "Gewinner" die sich dann überwinden können das Teil auch aufzuessen bekommen als Belohnung ein "Tarantula Challenge" T-Shirt dazu.
Kristin B. ticket #907669, we've got a tarantula with your name on it!
?
Think you could down a burger with a tarantula on it? Until supplies run out, come on in and enter your name in our Tarantula Challenge Raffle. You could be our next lucky winner. pic.twitter.com/gydxG9OmzC

— Bull City Burger (@BullCityBurger) 9. April 2018
Neben den Achtbeinern kommt im Rahmen der Aktion außerdem noch Alligator, Iguana, Python, Bison oder Schildkröte auf den Burger. Ich könnte mich dazu breit schlagen lassen das alles zu probieren, dich ich glaube die Tarantula würde ich auch gegen eine sehr hohe Geldsumme nicht anrühren.
(via)
+++Belong to the cool Kids! It's Easy: Follow ZWENTNER.comon Social Media like Twitter, Facebook, Snapchat or Instagram for more Content of this Blog & about my Life +++