Hasbro bringt den OST des original Transformers TV Cartoons aus 1984 auf Vinyl
Enjoy the Ride Records hat diverse Varianten angekündigt, die von ThinkGeek verkaufen zudem ebenfalls eine exklusiv-Version.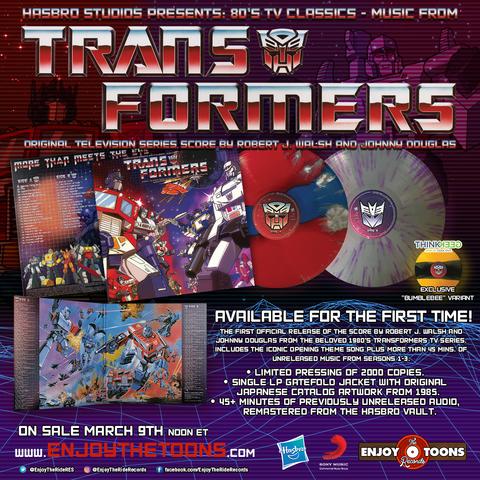 06.03.2018
Hab jetzt schon wieder nen Ohrwurm des Titelsongs, der damals jeden Samstag bei uns über den TV Bildschirm dudelte (damals auf Sky Channel). Fünfundvierzig Minuten Score die seinerzeit produziert wurden aber nie in der Serie landeten sind ebenfalls auf der Scheibe zu hören.
Bin gespannt ob es für den europäischen Retail-Vertrieb noch alternative Pressungen geben wird. Auf jeden Fall ist dieser Cartoon das für mich einzig wahre an Transformers. Ab 09. März zu haben!
Hasbro, Inc., Enjoy The Ride Records and Sony Music/Legacy Recordings announced today the release of Hasbro Studios Presents '80s TV Classics: Music from The Transformers on vinyl in three different color variants, available at select retailers Friday, March 9.  This is the first official release of the score in any format and includes 45 minutes of unreleased music including the iconic opening theme song and more by composers Robert J. Walsh and Johnny Douglas. The album features music from seasons 1-3 of The Transformersanimated series, which debuted in 1984.

"We're very excited to share with fans of all ages the classic original score from the animated show that helped launch the Transformers universe," said Stephen Davis, Chief Content Officer for Hasbro. "Legacy has created an incredible and unique collectors' edition vinyl that is truly More than Meets the Eye!"

Hasbro Studios Presents '80s TV Classics: Music from The Transformersfeatures a mix of orchestral and '80s inspired synth tracks which have been remastered from the original tapes by Walsh himself.  The unique collector's edition albums feature original artwork and will be available in three different retail exclusive vinyl colorways (each sold separately) corresponding with fan favorite characters Optimus Prime (Blue and Red Stripe With Gray Splatter), Bumblebee (Black and Yellow Stripe) and Megatron (Gray with Purple Splatter).
TRANSFORMERS (1984) FULL HD INTRO
+++ Belong to the cool Kids! It's Easy: Follow ZWENTNER.com on Social Media like Twitter, Facebook, Snapchat or Instagram for more Content of this Blog & about my Life +++