YAP macht Chatten wieder cool
YAP ist ein Chat! Ohne Schnickschnack ohne Social, ohne Werbung, ohne Tracking. Und es ist vergänglich, wie eine Kommunikation von Auge zu Auge. YAP ist cool, probiert es aus!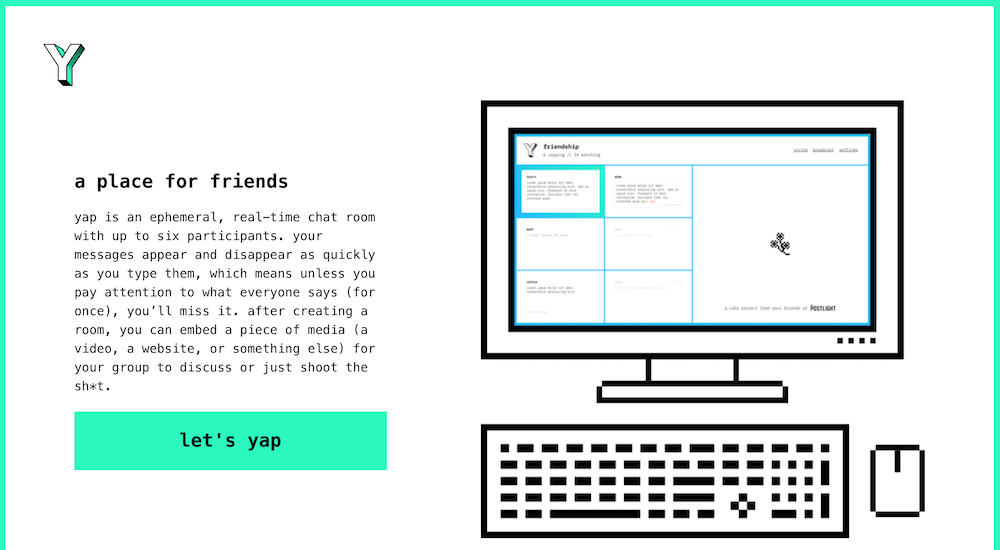 14.12.2019
Man erstellt einen Chat-Room, den man unter ein bestimmtes Diskussionsthema stellt. Dazu kann man dann noch einen x-beliebigen Link packen. So können die Teilnehmer z.B. einen Livestream gemeinsam gucken einen Artikel oder ein Video kommentieren, einfach zusammen Musik Hören usw.
Das ganze ist begrenzt auf nur 6 Chat Teilnehmer, die jeweils eingeladen werden müssen. Man kann den Chat-Room jedoch optional per Link an Zuschauer öffentlich machen.
Schreibt man einen Beitrag, verschwindet der vorherige aus der Timeline. Teilnehmer die später dazukommen, sehen nicht was vorher geschrieben wurde. Ganz so wie in einer 'echten' Unterhaltung. Wenn für 24 Stunden nichts geschrieben wird, löst sich der Thread für immer auf, und wird nirgendwo gespeichert.
You can shop together. Read together. Study together (just try it with lo-fi beats to study to, it's amazing). Watch pointless image slideshows together. Make jokes together. Talk trash together. It even works for those deeply engrossing Senate hearings! The list goes on and on.

Yap chats are lightweight and easy to share. You can share with anyone in the world and invite only who you want. Just use the link.
Geld wollen die Macher bei 'PostlightLabs' auch nicht damit machen. Wollen wir ihnen mal glauben.
Then what's the business model? Who gives a shit! We do business models all day. The web can have something that's just disposable fun. The great thing about Postlight Labs is that we can build fun things that matter and experiment with culture.
Alles cool, ein bisschen so als wäre das Internet tatsächlich noch unschuldig. Das einzige was ich mir wünschen würde wäre ein "random auto join" von Fremden die sich für mein Thema interessieren.
Und ich wünsche mir mehr solches Internet wie YAP ??
*** Belong to the cool Kids! It's Easy: Follow this Blog on Social Media like Twitter, Snapchat or Instagram for more Content of from Zwentner.com & about my Life ***