Saying Goodbye to Tokyo's smallest Electronic-Shop in Akihabara
Die Geschichte des Besitzers des ältesten Shop's für Kleinstelektronik in Tokio's Tech-Viertel Akihabara reicht zurück bis ins Jahr 1952 als sein Vater den Laden noch vor Japans Bubble Economy eröffnete. Nach 43 Jahren hinter dem Tresen geht Kochi, nun in Rente.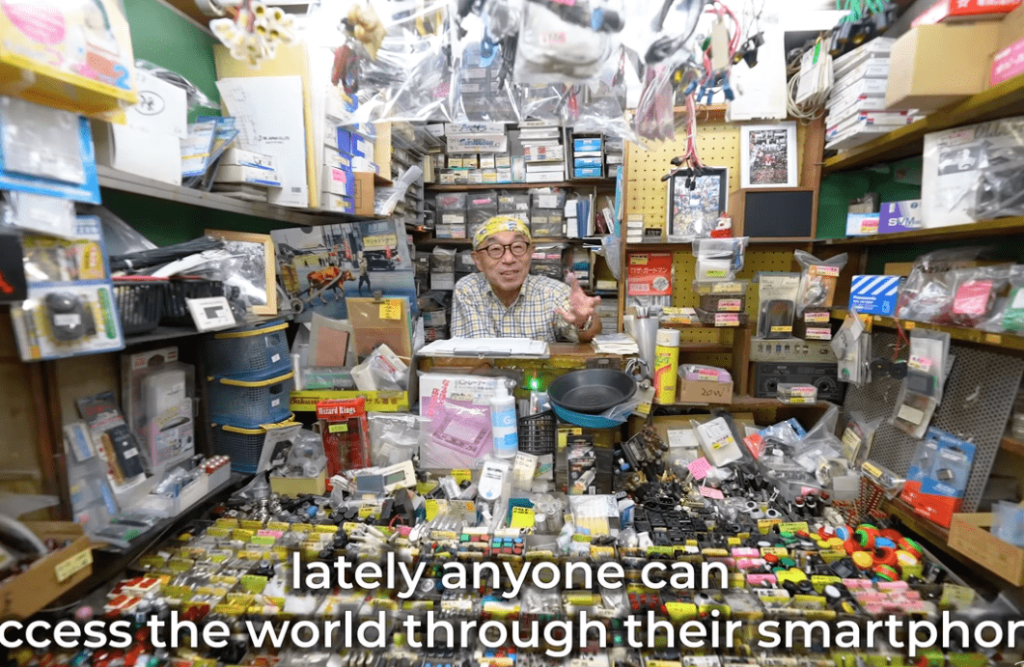 16.08.2022
Der Mann hat viel zu erzählen und blickt in diesem wirklich gelungenen Interview von Tokyo Lens zurück auf eine Zeit in der noch hochrangige Manager Sony Japan's bei ihm nach der Arbeit im Office vorbeigekommen sind um mit ihm über neue Tech-Gadgets zu plaudern.
Oder auf eine Zeit in der er ganze Schulklassen mit DIY-Mittelwellen Radio Kits zum selbst zusammenbauen versorgt hat und sich mit den SchülerInnen selbst hinsetzte und bastelte.
Im Laufe der Jahrzehnte ist sein wirklich winzig kleiner aber bis ans obere Ende mit Elektronik vollgestopfter Laden zu einer Institution für viele Ausländer die Akihabara besuchen geworden und er hat für tausende von Fotos und Insta-Beiträge posiert.
Seine Kunden konnte er übrigens bis zum letzten Tag glücklich machen, denn einen speziellen Wiederstand, eine Leuchtdiode oder einen Transistor benötigen die vielen passionierten Frickler in Japans Hauptstadt bis heute.
For 43 years, Koichi has sat in the same little spot & sold tiny electronic gadgets to thousands of Akihabara customers. He is part of Tokyo's history. He is part of Japan's history. And now… it is all coming to an end. And before it does, I wanted to take this one last chance to tell his story.
Saying Goodbye to Tokyo's TINIEST Shop | Akihabara
*** Belong to the cool Kids! It's Easy: Follow this Blog on Twitter, experience ZWENTNERS's Life on Instagram and listen to our Podcast about Vinyl ***