DIE WITH ME: Chat App für Leute mit fast leerem Smartphone Akku
Ein schwindender Smartphone Akku ist für viele Leute da draussen gleichzusetzen mit einem persönlichen Siechtum. Und geht das Handy dann aus, kann man sich für den Rest des Tages am besten gleich irgendwo daneben legen. Was hat das Leben dann noch für einen Sinn? 'DIE WITH ME' ist eine Chat App, die das versteht.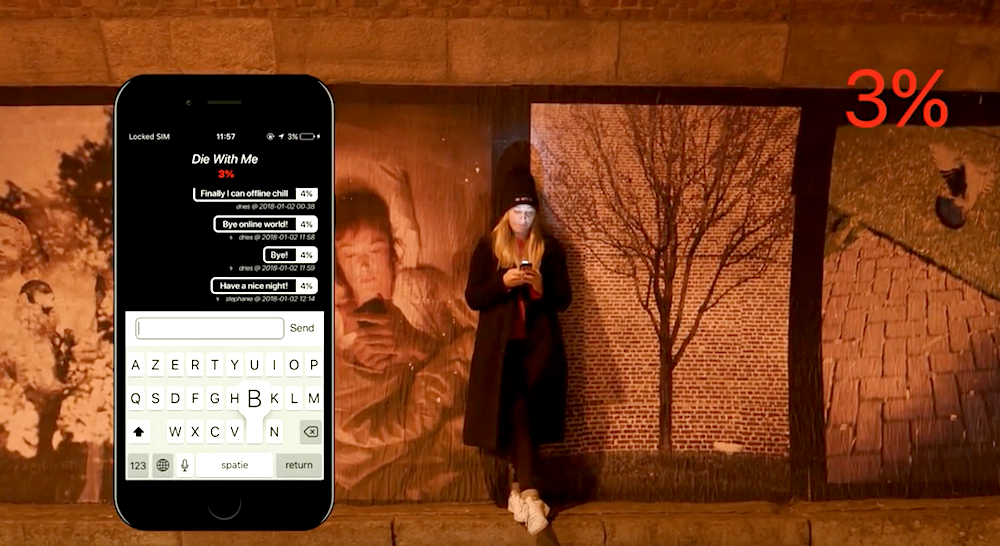 20.01.2018
Ist die App einmal installiert hat der Nutzer die Möglichkeit in einen exklusiven Chatraum für leidende 'Low Batterie People' aufgenommen zu werden und sich mit Gleichgesinnten auszutauschen. Aber auch erst dann wenn man selbst und sein Handy bei 5% verbleibender Akku Laufzeit angelangt ist.
Doch dann heißt es: Gemeinsam in den Untergang!
Ein paar letzte Worte wechseln mit anderen deren Online-Präsenz gerade die letzten Atemzüge haucht. Quasi ein Dialog vom Schafott mit anderen armen Seelen, die akut bedroht sind, ganz bald schon den Zugriff auf ihren Instagram Feed, ihre Facebook- oder Twitter-Timeline oder gar etwas ernsthaft nützliches auf dem Smartphone zu verlieren, zumindest solange bis die nächste Steckdose in Sicht ist.
Und wenn man sich dann gemeinsam ins offline Nirwana gechattet hat, kann es vielleicht auch bedeuten, dass man wieder nach vorne sehen kann für den Rest des langen und harten Tages. ohne Internet.
Vielleicht hat das Zwiegespräch mit anderen Todgeweihten der digital Vernetzung ja den Sinn geschärft für das was danach kommt. Und dann sehen wir Smartphone Junkies auf Parkbänken sitzen und dem Wind lauschen. Fremde die sich einfach so anlächeln und Leute die anfangen zu Essen sobald ihnen der Kellner den Teller hinstellt ohne vorher noch ein Foto zu machen. Eigentlich auch ein bisschen romantisch oder?
Die together in a chatroom on your way to offline peace
Die With Me - The chatapp you can only use when you have less then 5% battery
DIE WITH ME gibts für 0,99 Cent für Android und Apple und ich war neugierig und habe mal zugeschlagen. Und auch für denn Fall das ich ganz alleine im Chatraum bin, wenn ich die 5% Akku erreicht habe. Diese Idee war es mir wert :)
(via ls)
+++ Belong to the cool Kids! It's Easy: Follow ZWENTNER.com on Social Media like Twitter, Facebook, Snapchat or Instagram for more Content of this Blog & about my Life +++