Die ersten Post-Brexit Schallplatten verlassen die Insel und es wird leider teuer für Plattensammler in der EU. Bevor wir vielleicht in einer der nächsten Folgen versuchen das neue Import-Wirrwarr etwas aufzudröseln, machen wir uns heute ganz ungeniert einfach mal ein bisschen Luft. Natürlich gibt es aber auch anderes zu berichten und LIV077 ist prall gefüllt. Viel Spaß!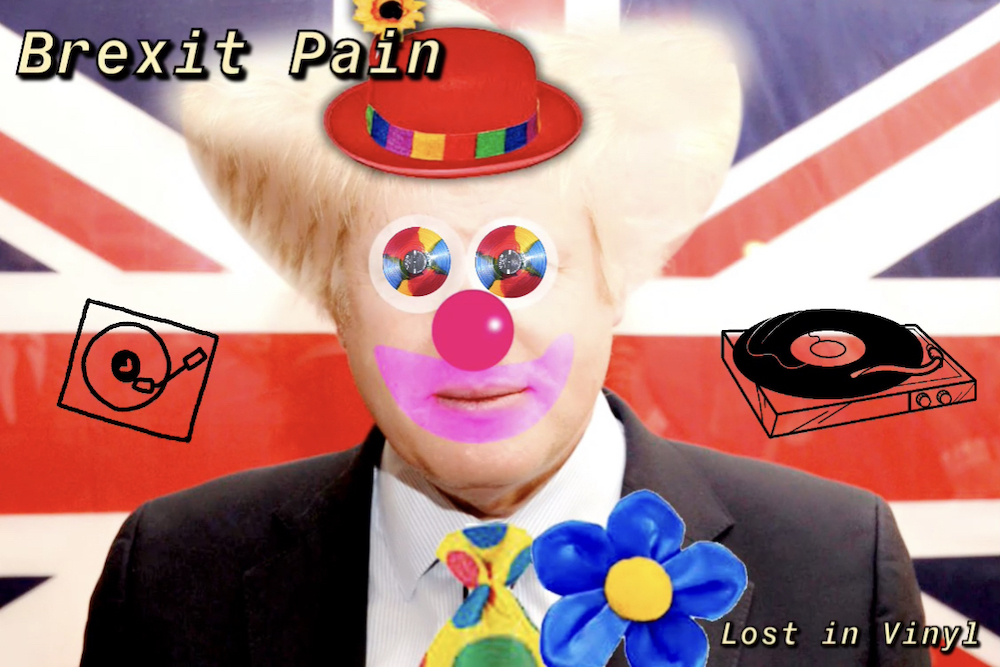 10.02.2021
…..
Bitte bewertet uns auf iTunes (klickt hier) oder nutzt die Bewertungsfunktion in der Apple Podcast App! Wir sind Euch sehr verbunden…
Du willst uns etwas mitteilen, uns kritisieren oder uns etwas über Platten erzählen, nur zu! Wir freuen uns…
Erreicht uns auf Twitter @zwentner auf Instagram @nibrasso, @newreverend oder @zwentner auf Snapchat @zwentner oder gerne auch per Mail: lostinvinyl@zwentner.com
Auf Instagram habt ihr zudem die Möglichkeit viele unserer Schallplatten zu sehen :)
Die Songs die wir in jeder Folge ansprechen findet ihr in unseren Playlisten auf Spotify oder Apple Music. Also gerne direkt abonnieren!
Wer 'Lost in Vinyl' unterstützen möchte, darf uns gerne ein paar 'Auphonic Credits' spendieren oder einfach eine der anderen Optionen hinter den Personen-Links weiter unten nutzen ums eine Aufmerksamkeit zukommen zu lassen. Thx :)
Lost in Vinyl auf Slack: Klicke hier um dabei zu sein. Wenn der Link nicht funktioniert melde dich bei uns und schicke uns deine Email Adresse, dann laden wir Dich manuell ein. Wir freuen uns!
Shownotes LIV077:
…..(Nachlese)
DJ Kicks, DJ Koze (purple edition) – Bicep, Isles (tripple vinyl)
…..(Wine of the Week)
Negative Gemini, Bad Baby – Hiroshi Yoshimura, Music for nine postcards – 

…..
Stars, Set Yourself on Fire (Demos)
….
Type o Negative, October Rust (green bootleg) – Hellion Records (metal mail-order)
…..
Düsseldorf Düsterboys, Winter
…..
Das "The Notwist, Vertigo Days Gewinnspiel läuft noch: Email mit "Vertigo Days Story" an lostinvinyl@zwentner.com (der Rechtsweg ist ausgeschlossen)
…..(Vinyl-Freakshow)
Luca Yupanqui, Sounds of the Unborn
…..(Preorders)
John Carpenter's Lost Themes III – Junip represses auf City Slang – Love Machine, Düsseldorf – Tokyo – Blue Note Classics –
Project Lazarus, CCCP001 – The Roots, Do you want more?
….. (Outro)
Boriswave 
On Air:

*** Belong to the cool Kids! It's Easy: Follow this Blog on Social Media like Twitter, Snapchat or Instagram for more Content of from Zwentner.com & about my Life ***