Die meisten Folks da draussen haben bestimmt mitbekommen, dass die Geschäftsführung Reddits es sich aktuell mit ihrer User-Base verscherzt, weil die Geld von den Machern externer Clients für API-Zugriffe wollen, zu viel Geld, sodass sie nicht überleben.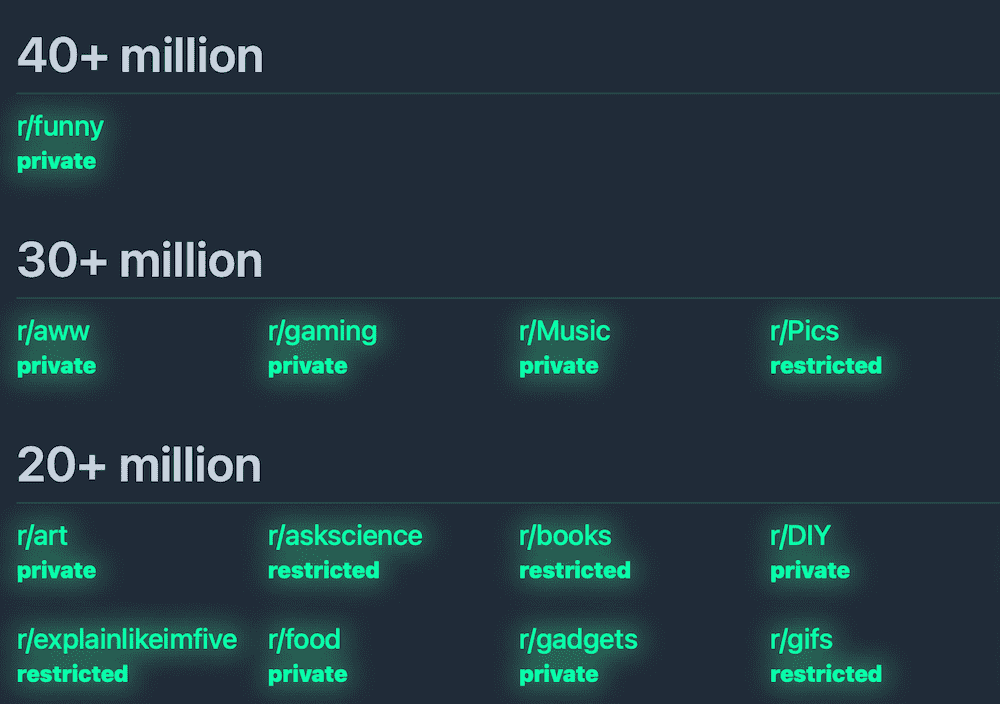 12.06.2023
Aus Protest dagegen schalten die Mods einiger sehr großer Communitys ihre Foren ab heute auf "privat". Einige wollen erst zurück in die Netz-Öffentlichkeit, wenn die bei Reddit wieder alles zurückdrehen.
Wenn ihr mich fragt: Ich hoffe die Mods machen ernst und möglichst viele Leute kehren Reddit den Rücken. Ganz nach dem Vorbild Elon Musks bei Twitter, zerschlagen die gerade ihr Netzwerk, weil sie bock haben auf mehr Profit, und deshalb die Arbeit engagierter Coder, die sich jahrelang für die Community aufgeopfert haben, mit Füßen treten.
Nachdem mein Client "Apollo" (nach einem sehr schmutzigen hin und her) bereits die Pforten geschlossen hat, ist sowieso schon ein nahezu irreparabler Schaden entstanden.
Wie auch immer: Auf Reddark kann man live verfolgen welche der teilnehmenden Subreddits die Lichter ausgeknipst haben und wieviele Mitglieder das jeweils betrifft. Wird zwar am Ende nichts bringen schätze ich, aber das Gefühl von Selbstwirksamkeit ist ja auch nicht ganz nutzlos oder?
These subreddits are going dark or read-only on June 12th and after. Some already are. Click here to find out why.

This website is a fork of the upstream Reddark using an entirely new backend. (Source linked in footer.) May or may not be more stable than upstream.
*** Belong to the cool Kids! It's Easy: Follow this Blog on Twitter, experience ZWENTNERS's Life on Instagram and listen to our Podcast about Vinyl ***