Haruomi Hosono: Videogame Music
YMO Mitglied und Elektronik-Pionier Haruomi Hosono war seiner Zeit musikalisch in vielen Dingen voraus. So hat er bereits ein Chiptune Album veröffentlicht noch bevor es das Genre überhaupt richtig gab.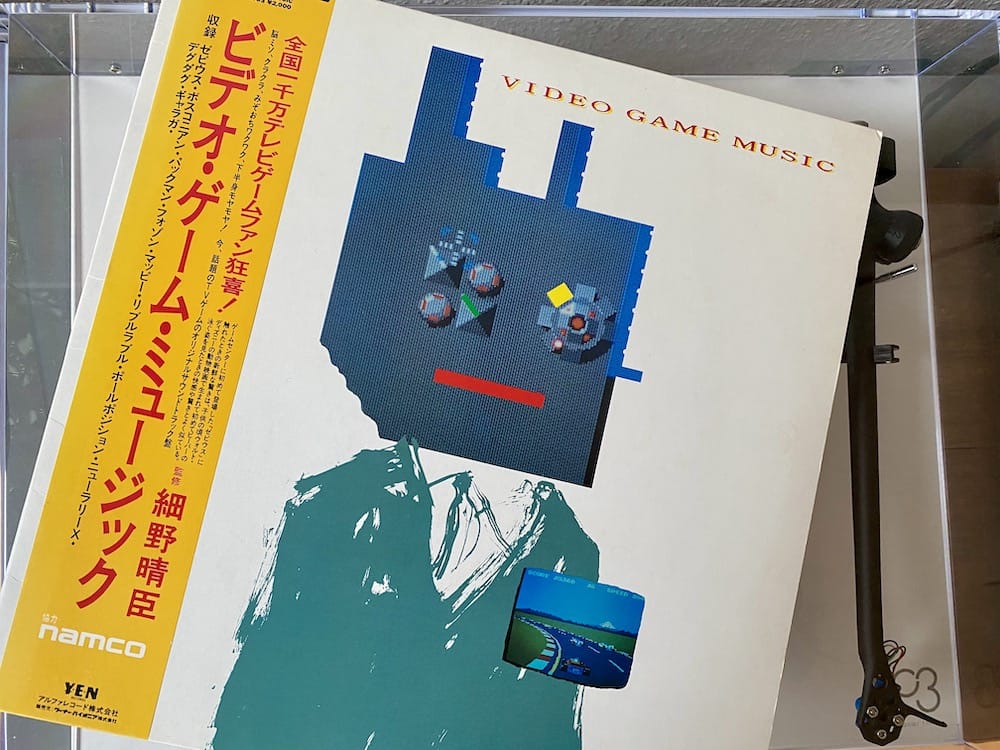 06.12.2020
Das war im Jahr 1984 einer Zeit in der Videospiele, zumindest in Japan, schon eine ganz große Sache waren. Keine fünf Jahre vorher haben Hosono und seine YMO Bandkollegen Yukihiro Takahashi und Ryuichy Sakamoto mit ihren selbstbetitelten Debut Album Yellow Magic Orchestra den Sound geliefert, der Inspiration für mehr als eine Dekade Pixelmusik in Computerspielen werden sollte. YMO's erste Platte wiederum huldige gleich im Opener dem NAMCO Titel 'Space Invaders'.
Vieles auf YMO's erstem Album war neu und hatte es so noch nicht gegeben. Die Band war z.B. die erste überhaupt, die mit 'Roland MC-8 MicroComposer' für ihre Produktionen benutze. Der besondere Stil von Yellow Magic Orchestra war Richtungsweisend nicht nur für den Sound vieler Videospiele der folgenden Jahre sondern für die Elektronische Musik überhaupt.
Angesichts der boomenden Arcade-Kultur im Japan der 80er Jahre, war es natürlich fast logische Konsequenz, dass das vielleicht erste Chiptune Album aller Zeiten zunächst "Nippon Only" aus dem Dunstkreis vom Yellow Magic Orchestra stammen würde.
Hosono wurde seinerzeit direkt vom Spielehersteller NAMCO angesprochen, dem Verleger bei dem auch das auf YMO gesamplete 'Space Invaders'  erschienen war. Hosono sollte sich einige bekannte Melodien aus anderen Arcade-Hits NAMCO's vornehmen und sie produktionstechnisch veredeln.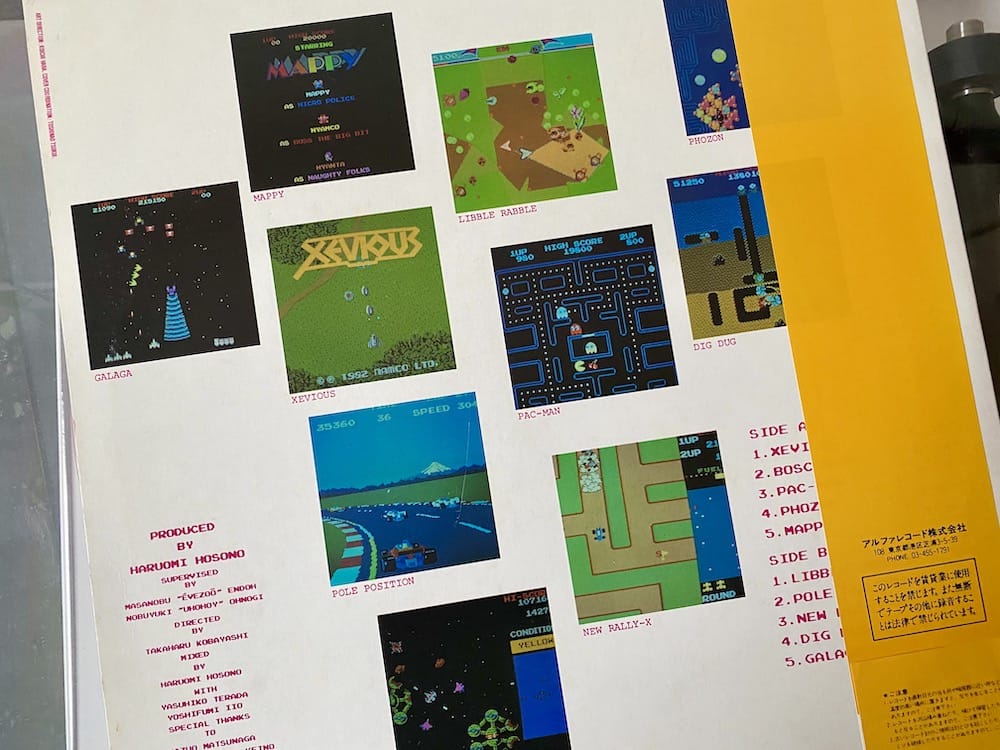 Ein Ansatz, den wir in der heutigen Chiptune-Szene bereits hundertfach gesehen haben. Die Platte wurde schlicht 'Video Game Music' getauft und enthält Hosono's Interpretationen klassischer Melodien aus Pac-Man, XEVIOUS, Pole Position, Dig Dug oder Galaga. Die Sammlung stellt sozusagen ein Best-of NAMCO's der damaligen Zeit dar und ist für Freunde von Pixelmusik natürlich bis heute super aufregend.
Vermutlich hatten Hosono aber auch NAMCO damals keine Ahnung davon, dass 'Video Game Music' einmal zum Grundstein einer aktiven musikalischen (Sub-)Kultur werden sollte. Vor allem wenn man bedenkt, dass das Album damals im Original natürlich auf Vinyl erschienen ist. Vielleicht ist das auch einer der Gründe warum viele der heute veröffentlichten Chiptune-Titel ebenfalls so beliebt auf Platte sind.
'Video Game Music' entspricht also auf eine gewisse Weise heute wieder mehr dem Zeitgeist als zum Beispiel in den 90er Jahren, als alle Welt dachte wir würden für immer CD's Hören und könnte so als nachträgliches Fundament einer ganzen Vinyl-Fanblase Pate stehen.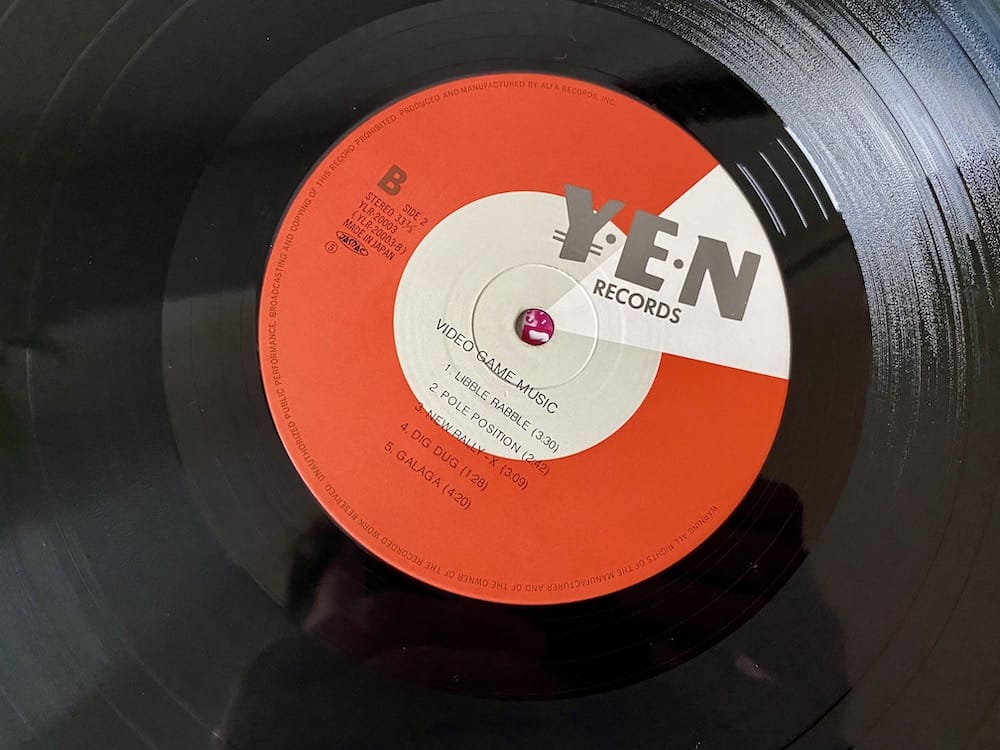 Die Schallplatte erschien 1984 auf einem Label namens Yen Records, das Hosono gemeinsam mit YMO Bandmate Yukihiro Takahashi betrieben hat, dass jedoch im Jahr 1985 nach nur drei Jahren Existenz wieder eingestampft wurde. Heute an ein Exemplar in gutem Zustand zu gelangen ist schwierig aber nicht unmöglich. Aus Japan, lässt sich die Schallplatte über diverse japanische Händler importieren. Natürlich nur wenn man dazu bereit ist ein paar Taler auf den Tisch zu legen.
Bei 'Video Game Music' kann man ganz klar von einem genreprägenden Album sprechen, dass allein aus dieser Warte heraus ein klarer Kandidat für ein (ganz im Stil der heutigen Chiptune-Subkultur) farbiges Repress ist. Abgesehen davon sind die Interpretationen der aus heutiger Sicht noch kultigeren Game-Auswahl immer noch ein ganz besonderer Hörgenuss. Da in den vergangenen zwei Jahren durchaus einige alte Hosono Sachen wiederveröffentlicht wurden, ist eine Hoffnung zudem hier definitiv berechtigt.
Zur Zeit der Entstehung des Albums war übrigens die britische TV-Shoe "The Tube" bei Hosono und Sakamoto im Studio zu Gast. Obwohl der Moderator mangels Japanischkenntnissen kein Wort mit Harry Hosono wechseln kann, darf man ihm trotzdem kurz über die Schulter schauen, wie er sein Instrumentarium bedient. Ein tolles Zeitdokument.
A special edition of The Tube from Japan. Including Frank Chickens, Sandii and the Sunsets, Ryuichi Sakamoto and Yellow Magic Orchestra amongst others.
Wie so ziemlich alles aus den japanischen 80ern gibt des 'Video Game Music' zudem in voller länge auf YouTube. Wie immer ein akzeptabler Ersatz für alle die diesen Klassiker gerne in ihrem Regal stehen hätten.
Haruomi Hosono - Video Game Music (1984) FULL ALBUM
*** Belong to the cool Kids! It's Easy: Follow this Blog on Twitter, experience ZWENTNERS's Life on Instagram and listen to our Podcast about Vinyl ***