Ein fantastisches Gif! Ich bin aber zumindest (noch) der Meinung, dass 'Ausbrechen' aus den vorgegebenen Wegen die das Leben so für einen bereit hält nicht zwangsläufig gleich zur eigenen Terminierung führt ?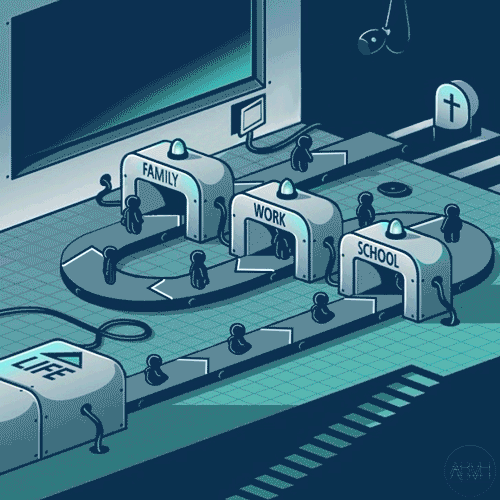 03.01.2019
Doch das ist wohl auch das was Elia Colombo mit ihrer Zeichnung meint, sonst würde sie ja nicht "be your path" dazu schreiben. Die Dargestellte Situation ist dann wohl eher ein Sinnbild für die Ängste in modernen Gesellschaften.
Frei nach dem Motto: "Wenn ich einmal aus der Reihe tanze war es das und mein Leben ist vielleicht nicht mehr auf die Spur zurückzuführen…"
Ist natürlich Quatsch und innerlich wissen das auch die Meisten. Selbst zu entscheiden wo es langgeht ist trotzdem ein Achievement, dass man sich immer wieder neu erkämpfen muss und sollte.
BREAKING THE RULE
Don't let them decide the path you're on. We all know where each road leads, no one can fail the Final Goal. But the way you achieve it is entirely in your hand: don't just follow the path, be your path!
(Gif by: © ABVH / Original Artwork by © Elia Colombo)
(via Jörn)
*** Belong to the cool Kids! It's Easy: Follow this Blog on Social Media like Twitter, Snapchat or Instagram for more Content of from Zwentner.com & about my Life ***