Hard Ticket to Hawaii: Frisbee Scene
Ronn Moss verfügt  nicht nur über eine beeindruckende Jawline, sondern hatte im Jahr 1987 die Ehre in diesem Agenten-Action Flick voller Palmen, kampfwütiger Blondinen, Maschinengewehren und natürlich tödlich scharfen Frisbees mitzuspielen.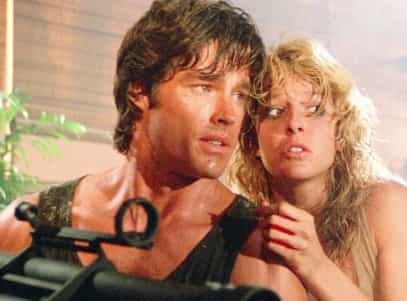 28.08.2023
Und absolut niemand weiss besser wie man bewaffnete Wachposten mit Pilotenbrillen lahmlegt, so viel steht fest. Zur not hat man halt immer mindestens drei Frisbees dabei.
Wenn dass mal nicht Grund genug für einen Trash-Abend mit 'Hard Ticket to Hawaii' ist, dann weiss ich es doch auch nicht.
Hard Ticket to Hawaii - Frisbee Scene
*** Belong to the cool Kids! It's Easy: Follow this Blog on Twitter, experience ZWENTNERS's Life on Instagram and listen to our Podcast about Vinyl ***