Oblique Strategies for Game Boy
Oblique Strategies ist ein bereits 1970 von Brian Eno und Peter Schmidt herausgegebenes Karten Deck zur Kreativitätsförderung. Und das gibt es nun auch für den Game Boy.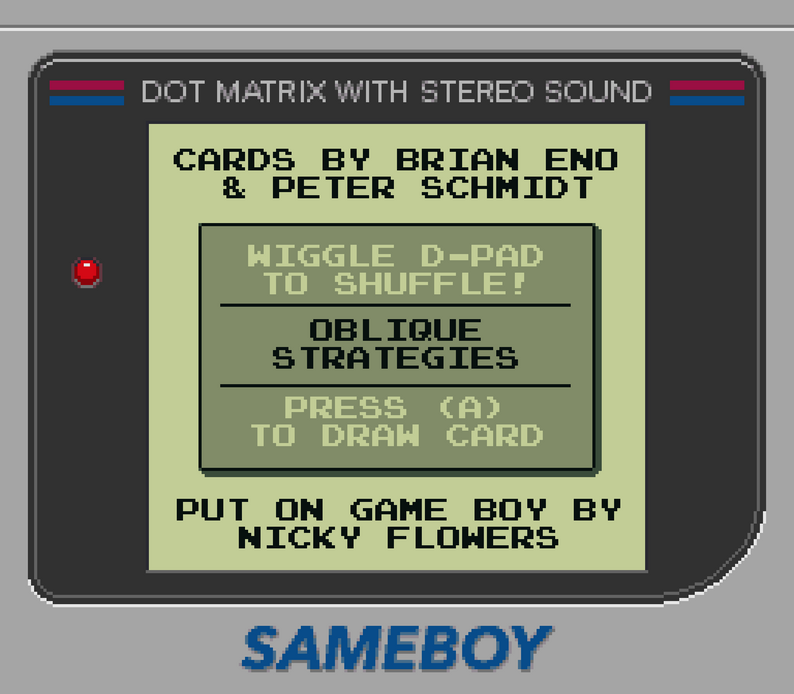 05.07.2022
Der Sinn hinter Oblique Strategies ist es Kreative Blickaden z.B. beim Schreiben, Musik machen, Malen o.Ä. zu zerschlagen, indem die jeweiligen Karten eine geschickte und vermeintlich unerwartete Frage stellen, welche das Denken anfeuern soll.
Die Original Version in Kartenformat ist über die Jahrzehnte insgesamt fünf mal aktualisiert worden und noch immer in Brian Enos Webshop zu haben.
Die glorreiche Idee das Ganze für den Game Boy verfügbar zu machen, haben wir Nick Flowers zu verdanken, der sich damit das Rom-coden beibringen wollte, nun mit Erfolg.
Oblique Strategies is a deck of cards designed to help artists break up an art block. Each of the 100+ cards contain a possible action to take or a new way of thinking about a creative problem. They were created by artists Brian Eno and Peter Schmidt in the 70s and have been updated with various new editions over the years.
*** Belong to the cool Kids! It's Easy: Follow this Blog on Twitter, experience ZWENTNERS's Life on Instagram and listen to our Podcast about Vinyl ***