Tokyo Dreaming (clear Vinyl)
Neuauflage von 'Tokyo Dreaming' einem bereits in 2020 auf WeWantSounds veröffentlichten und wirklich hervorragend  zusammenstellen City Pop Sampler auf 'clear' Vinyl.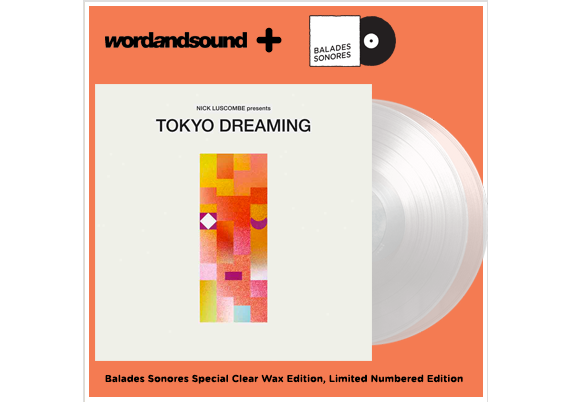 28.09.2022
Dieses Exclusive ist in Kooperation mit Balades Sonores entstanden und ist auf 100 nummerierte Exemplare limitiert. Ich hoffe dass der Nachfolger 'Tokyo Glow' ebenfalls noch diese Würden erhält :)
'Tokyo Dreaming' is a superb selection picked from the highly collectible Nippon Columbia label and its Better Days sub-label. For the occasion, we've teamed up with journalist and Japanese music expert Nick Luscombe who was granted rare access to the much-guarded Nippon Columbia's vaults for a masterful selection encapsulating the fascinating sound of Tokyo in the late 70s and 80s. The selection mixes electro, synth-pop, funk and ambient and features such artists as Ryuichi Sakamoto, Mariah, Shigeo Sekito, Juicy Fruits, Hitomi "Penny" Tohyama and Yumi Murata. The tracklist includes many sought-after rarities and hidden gems which have never been released outside of Japan and the set has been newly remastered by Nippon Columbia. The album has been designed by famed London-based designer Optigram and is annotated by Nick.
Yumi Murata "Watashi No Bus" - from TOKYO DREAMING - OUT ON WEWANTSOUNDS 27 NOV 2020
*** Belong to the cool Kids! It's Easy: Follow this Blog on Twitter, experience ZWENTNERS's Life on Instagram and listen to our Podcast about Vinyl ***