Watch a 90s TV Show Host explain the Internet
Im Jahr 1994 hat noch niemand so wirklich einschätzen können, was da mit dem Internet so auf uns zukommt und schon gar nicht, dass wir irgendwann mal vor Netflix. Apple TV und drölfzig anderen Streaming-Diensten sitzen werden und keine Ahnung haben was wir uns anschauen sollen.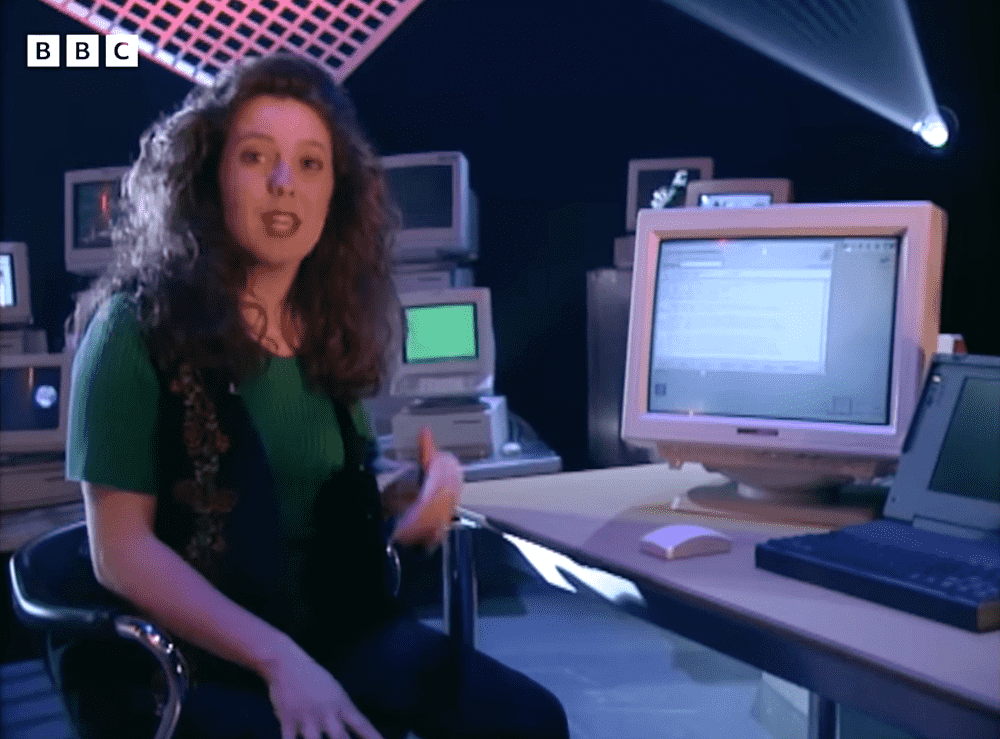 09.09.2022
Bis zu diesem Punkt lagen aber immerhin noch neunundzwanzig Jahre Internet in denen wir Anfangs noch AOL-Zugangs CD's aus Zeitschriften rissen, MySpace Gästebücher vollgetippt haben, Datenskandale kommen und gehen sahen, File-Sharing erfanden, die Dating-Kultur Verschlimmbesserten, Die Buchindustrie und dann den gesamten Einzelhandel auf links gedreht haben, Banking und Geldgeschäfte revolutionierten und ein selbstreferentielles Meme-Universum erschufen. Und diese wenigen Beispiele liessen sich, wie wir alle Wissen noch meterlang Erweitern.
Das meiste davon passierte übrigens ziemlich lange (und in Ländern wie Deutschland btw. häufig noch bis heute) durch Kupferdrähte. Und auch wenn das Internet heute mindestes genauso fest im postkapitalistischen Wahnsinn gefangen ist wie der Rest der Realität da draussen und viele von uns zurecht gelangweilt von fadem Überangebot und genervt von Abzocke durch Plattformen dort sind, gibt es natürlich weiterhin kreative, inspirierende und freshe virtuelle Orte der Glückseligkeit im Netz, man muss nur etwas besser suchen.
Und auch wenn Bill Clinton's automatisierter Email-Reply inzwischen vielleicht abgeschaltet sein mag, ist es wie immer wohl nur eine Frage der Zeit bis der aufregende und weltumspannende "Superhighway" für Informationen die nächste große Überraschung für uns bereithält. ;)
Are you still ready for the Internet?
Kate Bellingham reports that an exciting new interconnected world – a world where every word ever written, every picture ever painted and ever film ever shot will be at our fingertips – is tantalisingly close. The information superhighway will be a high-capacity digital communication network, which in time could revolutionise the way we shop, socialise and work. The groundwork for this technological behemoth is already well underway, with computers already communicating with one another to allow users to send electronic mail (President Bill Clinton is already connected) and access news, weather and even some shopping services. For the information superhighway to really take off though, it needs more capacity than the UK's ageing network of copper telephone wires can provide. Is Britain prepared to invest in the sort of high-capacity fibre-optic cable network that can make the technological utopia a reality?
1994: Are YOU Ready for the INTERNET? | Tomorrow's World | Retro Tech | BBC Archive
*** Belong to the cool Kids! It's Easy: Follow this Blog on Twitter, experience ZWENTNERS's Life on Instagram and listen to our Podcast about Vinyl ***