Stranger Things 'Expanded Universe'
Neben einigen inoffiziellen Veröffentlichungen und Begleitbüchern zur Netflix 'Stranger Things' gibt es inzwischen schon zwei offizielle Romane, die sich mit mit Geschichten um die Staffelinhalte herum befassen.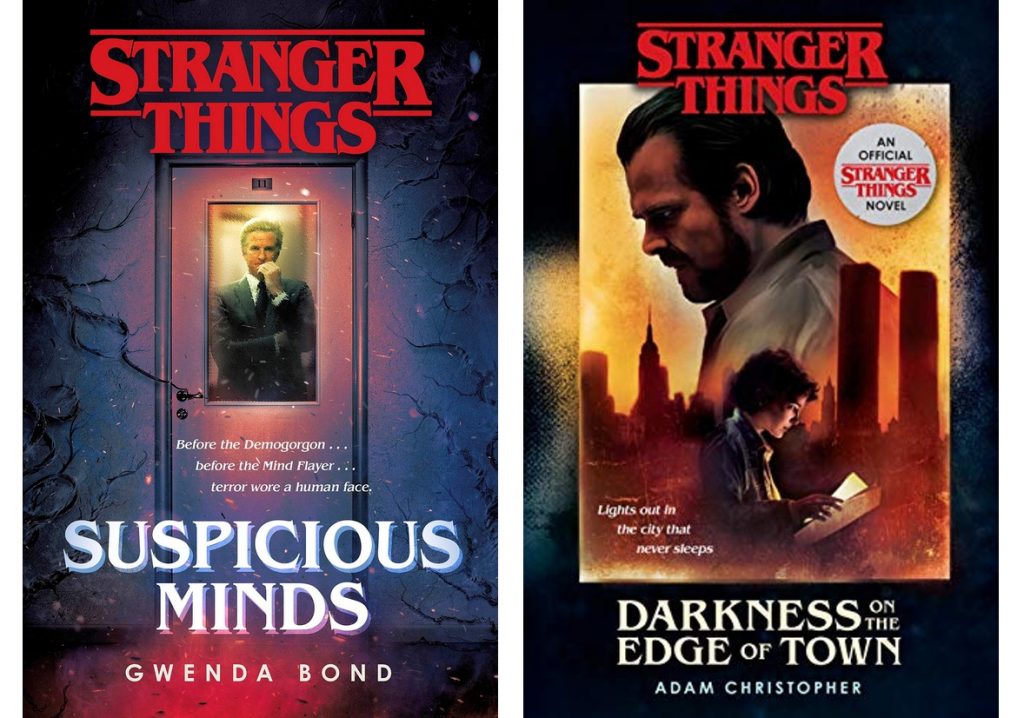 24.08.2019
Gwenda Bond ist für 'Suspicious Minds' verantwortlich, das noch vor der ersten Staffel spielt und sich Hintergründen zu den Experimenten von Elevens Ziehvater Dr. Martin Brenner. Im Zentrum steht eine von Elfi's 'Vorgängerinnen' 008.
It's the summer of 1969, and the shock of conflict reverberates through the youth of America. As a student at a quiet college campus in the heartland of Indiana, Terry Ives couldn't be farther from the front lines of Vietnam or the protests in Washington.

But the world is changing, and Terry isn't content to watch. When word gets around about an important government experiment in the small town of Hawkins, she signs on as a test subject for the project, code-named MKULTRA. The remote lab, deep in the woods, contains a mystery Terry is determined to uncover.

Behind the walls of Hawkins National Laboratory—and the piercing gaze of its director, Dr. Martin Brenner—lurks a conspiracy greater than Terry could have ever imagined. To face it, she'll need the help of her fellow test subjects, including a young girl with unexplainable superhuman powers and a number instead of a name: 008.

Amid the rising tensions of the new decade, Terry Ives and Martin Brenner have begun a different kind of war—one where the human mind is the battlefield.
Adam Cristopher's 'Darkness on the Edge of Town' ist der offizielle Stranger Things Roman Nummer zwei, spielt zwischen der ersten und zweiten Staffel und legt den Fokus auf Hoppers Background, der sicherlich in Staffel vier noch mal an Bedeutung gewinnen wird.
Christmas, Hawkins, 1984. All Chief Jim Hopper wants is to enjoy a quiet first Christmas with Eleven, but his adopted daughter has other plans. Over Hopper's protests, she pulls a cardboard box marked "New York" out of the basement―and the tough questions begin. Why did Hopper leave Hawkins all those years ago? What does "Vietnam" mean? And why has he never talked about New York?

Although he'd rather face a horde of demogorgons than talk about his own past, Hopper knows that he can't deny the truth any longer. And so begins the story of the incident in New York―the last big case before everything changed…

Summer, New York City, 1977. Hopper is starting over after returning home from Vietnam. A young daughter, a caring wife, and a new beat as an NYPD detective make it easy to slip back into life as a civilian. But after shadowy federal agents suddenly show and seize the files about a series of brutal, unsolved murders, Hopper takes matters into his own hands, risking everything to discover the truth.

Soon Hopper is undercover among New York's notorious street gangs. But just as he's about to crack the case, a blackout rolls across the boroughs, plunging Hopper into a darkness deeper than any he's faced before.
Gerade der erste Roman ist in der Kritik gut weg gekommen und lässt für mich nochmal den Mystery-Faktor der ersten Staffel zurückkommen, der in den nachfolgenden ein wenig verloren gegangen ist.
Gibt's alle als Paperback, Hörbuch und Ebbook in englisch und deutsch auf Amazon (affiliate link). Werd ich mir mal geben…
*** Belong to the cool Kids! It's Easy: Follow this Blog on Social Media like Twitter, Snapchat or Instagram for more Content of from Zwentner.com & about my Life ***