Super You: AR Bodysuits App
Super You nutzt Apple's ARKit3.5 um Menschen super weirde virtuelle Bodysuits überzustülpen. Ergebnis ist bizarr, artsy und absolut genau mein Ding. Let's flood Social Media! ?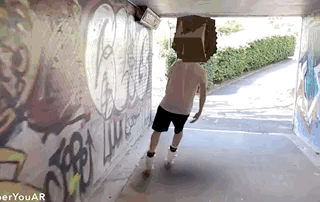 11.07.2020
Super You is an AR costume arts experiment by Universal Everything.
Aim your camera at your super friend, see them transform and swipe to change costumes.

There are 11 super costumes to choose from, which also sample the colours of the clothes you are wearing.
Werd ich heute direkt mal mit rumspielen. Ziemlich beeindruckend! ??
Some general tips for making your Super You film:
– Move gracefully rather than frenetically
– Find good lighting
– Wear colourful clothing
– Try filming different activities in different locations – it works indoors and outdoors!