Thought Gang : David Lynch and Angelo Badalamenti's verloren geglaubtes Album aus den 90ern wird veröffentlicht
Lynch und Badalamenti haben von 1992-1993 an einem gemeinsamen Esoterik-Jazz Projekt namens Thought Gang gearbeitet. Das Album wurde zwar fertiggestellt aber nie veröffentlicht, bis jetzt.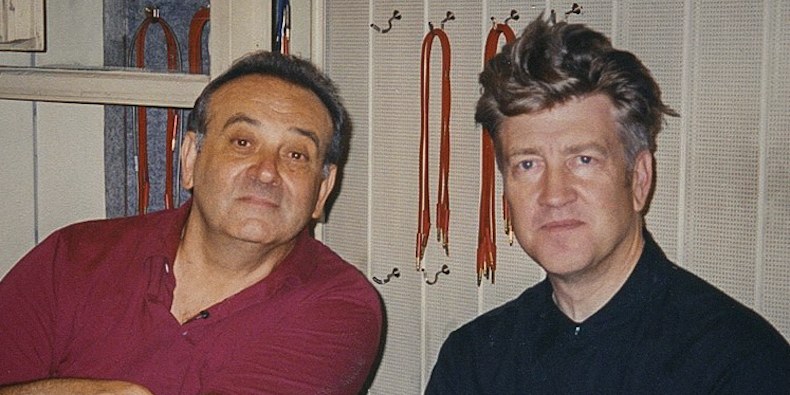 18.09.2018
Die Tracks 'A real Indikation' und 'The Black Dog runs at Night' haben es seinerzeit auf den Soundtrack zu 'Twin Peaks Fire Walk with me' geschafft. Die Songs 'Frank 2000' und 'Summer Night Noise' haben einen Platz in 'Twin Peaks The Return' gefunden (mehr als 25 Jahre später).
Da beide nicht auf dem offiziellen Score enthalten sind ist es umso spannender, das Thought Gang jetzt erscheint.
Der damals an den Aufnahmen beteiligte Bassist Reggie Hamilton erinnert sich in einem Statement zur Veröffentlichung an die damaligen Anweisungen David Lynch's:
imagine you're a chicken with your head cut off running around with a thousand bennies shoved down your throat,
Zur heutigen Nachricht gesellt sich auch die Verfügbarkeit es bisher unveröffentlichten Album Tracks 'Woodcutters From Fiery Ships' weiter unten.
Das Album wird es in zwei verschiedenen "Limited Editions" in der Farbe "Monkey Fur" geben (beide schon vergriffen) sowie in klassisch schwarz. Veröffentlichungstermin ist der 02. November via Sacred Bones. Außerdem werden über das Label auch 1000 Kopien in der Farbe "steel" also vermutlich silber oder grau in die Indie Record Stores gestellt und teilw. auch über deren Webstores vertrieben. Meine Kopie habe ich bei Norman Records UK ergattert.
Wer jetzt traurig ist, kein Exemplar, der farbigen Vinyl Version ergattert zu haben, der kann bei Sacred Bones im allgemeinen auf einen Repress hoffen. Ist eigentlich irgendwann die Regel bei denen. Auf die Musik, die natürlich ebenfalls digital veröffentlicht wird, können wir uns aber erstmal alle freuen. :)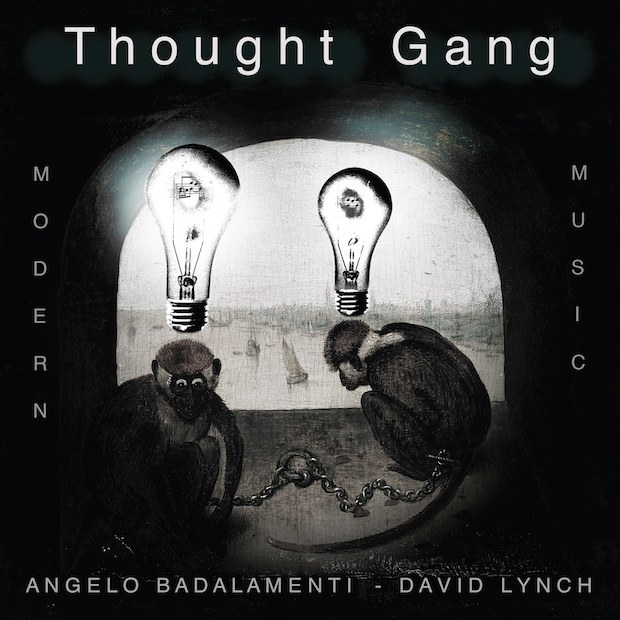 By the time Twin Peaks' second season had aired and Fire Walk With Mehad just began principle production, Thought Gang had been born. The esoteric jazz side-project of David Lynch and Angelo Badalamenti evolved from the seeds of Twin Peaks' trademark slow cool jazz and blossomed into more experimental pastures: horizonless vistas of acid-soaked free-jazz, laced with spoken word narratives and sprawling noisescapes.
Thought Gang (David Lynch & Angelo Badalamenti) - Woodcutters From Fiery Ships (Official Audio)
Tracklist:
01 Stalin Revisited
02 Logic and Common Sense
03 One Dog Bark
04 Woodcutters From Fiery Ships
05 A Real Indication
06 Jack Pains It Red
07 A Meaningless Conversation
08 Frank 2000 Prelude
09 Multi-Tempo Wind Boogie
10 The Black Dog Runs at Night
11 Frank 2000
12 Summer Night Noise
*** Belong to the cool Kids! It's Easy: Follow this Blog on Social Media like Twitter, Snapchat or Instagram for more Content of from Zwentner.com & about my Life ***